Is There Really A Stigma Against Fi-Core Actors In The Industry?
By Jeff Hatch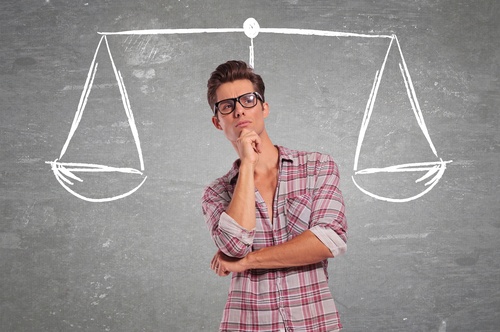 SAG-AFTRA warns that as a Core member, you may be shut out of many Union jobs because most people in Hollywood are pro-union and there is a huge stigma against it- to the point you could be blacklisted by Casting Directors, agents and producers who see "Fi-Core" on your resume. This assertion is partially true. It was actually a lot truer 10 years ago than it is today. Of late, it has become such a popular option that Industry pros are starting to view it with more understanding (or resignation) than derision. Anecdotal reports seem to suggest the stigma attached to Fi-Core is more noticeable in LA than in New York and it's mostly SAG actors that are disdainful of FC "scabs" than anyone else. This is understandable as Union actors will see FPNMs as freeloaders and unfair competition, while producers will see them as affordable labor.
Indeed, many of the filmmakers in Hollywood are very pro-Union. But these days, it doesn't seem to stop them from hiring a LOT of non-union talent. For instance, casting directors who cast all those lucrative national commercials and primetime television shows under SAG-AFTRA contracts are, in many cases, the very same people who cast non-union spots, indie films and web projects. It is well known that if a CD finds an actor they like, they continue to call that actor in. So if a Fi-Core actor impresses someone at a non-union audition, they have a much better shot at being called by that same casting professional when a role comes up in a SAG show This fact could give them a nice edge over a full Guild member who hasn't been called into that casting office before (because they've had to pass up all the non-union auditions).
What about agents? There are still agencies in Hollywood that won't look at an actor unless they are full Union members. But there are many more agencies now than ever before that actually prefer Fi-Core actors to full SAG talent because, by some accounts, as much as 85% of acting gigs in LA are non-Union. Why would an agent want to shut his clients (and him/herself) out of all those jobs? I recently heard from a friend whose SAG franchised agent is considering dropping SAG-AFTRA from her title due to costly Union requirements for agents who contract with them to rep only Guild actors.
As for producers, the industry is flooded these days with low-budget independent projects. While studio films, primetime television shows, and national commercials may remain strictly Union, it's actually becoming more and more common for indie producers to seek Fi-Core actors specifically so they have the option of organizing under SAG-AFTRA, (or keeping it non-union, depending on how their budget shapes up as they get closer to shooting). There have even been examples (one that I personally know of) of projects that turned SAG in the middle of shooting and purposefully cast FC actors in order to be ready for that contingency. If, as an actor, you've had no problems booking SAG-AFTRA shows consistently, maybe you don't need to worry about being considered for a low-budget indie on the cusp of turning Union. But for those less fortunate, FC may open doors to more opportunities. And like the casting directors mentioned earlier, a lot of producers and directors work on both SAG and non-union projects.
Are most decision makers in the Industry even aware of what Fi-Core is?
I would venture to say roughly 90% of Hollywood professionals are aware of Fi-Core, especially those in a position to hire actors. With the huge influx of independent, non-Union productions in recent years, it is becoming more the rule than the exception for productions to be savvy about it. Yet, amazingly, I still run into Industry pros who are not aware of the Core option. Usually these are kids fresh out of film school, but once in a blue moon I've met a filmmaker who's had years of experience but is still ignorant about Financial Core.
This can present a problem if they don't understand the FC law. They may not be sure whether such an actor is legit to hire. If they see "Fi-Core" on your resume instead of something they're familiar with like "SAG-AFTRA", "SAG Eligible" or "Non-Union" and are casting a non-Union project, they may think, "So, does that mean she's Union? Then I can't hire her," and if they are casting a SAG-AFTRA show, they may think, "So, she ISN'T Union? Then I can't hire her." In those cases, you might need to go into a brief explanation about how "I've exercised my legal right to declare Financial Core status in order to take non-union gigs until I'm more established but I am also able to continue working Union projects", or something to that effect. They may still be uneasy about hiring you, and their ignorance could cause one or two missed opportunities, but that is most definitely the exception and not the rule.
Next: Most Non-Union Gigs Don't Pay Well. Is Turning To Fi-Core Even Worth The Trouble?
---
This is one of a series of questions and answers regarding Financial Core for SAG-AFTRA members. Jump to a question:
Intro: Everything You Wanted To Know About Fi-Core But Were Afraid To Ask
Why Would A SAG-AFTRA Actor Want To Go Fi-Core?
Why Would An Actor NOT Want To Choose Fi-Core? What Are The Consequences?
What Does The Union Say About Fi-Core And What Are The Arguments For It?
Is There Really A Stigma Against Fi-Core Actors In The Industry?
Will I Lose My Pension And Benefits?
Right To Work And Fi-Core Permanence
What If I'm SAG-AFTRA And Just Take Non-Union Gigs 'Under The Radar?'
How Many Fi-Core Members Are There?
Fi-Core And The SAG-AFTRA Merger
Does SAG-AFTRA Offer More Detailed Information About Financial Core?
How Would I Go About Getting On Fi-Core Status?
Is The Financial Core Option Right For Me?